Avery's Story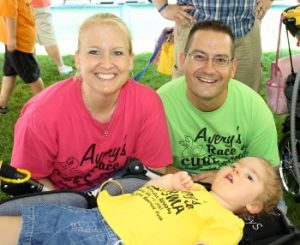 Avery Lynn arrived in a hurry at 3:56 p.m. on April 30, 2008. She was perfect. Dark hair, dark eyes, kicking and screaming. All was going great. At 2 months old we took her in for her check up and shots and asked the doctor why she wasn't trying to hold her head up and moving very much. At first we were told she was a lazy baby. Then she got really sick Sept. 2, 2008 and we took our first ambulance ride to Madison. We almost lost her. That forced us to quickly figure out why she had low muscle tone or hypotonia. We saw a neurologist and she knew by looking at Avery what she had. A blood test confirmed the doctor's prediction. Sure enough it came back 2 weeks later being SMA, Spinal Muscular Atrophy type 1. Avery was diagnosed at 5 months old, on October 7, 2008. A day we will never forget.
That day changed our life forever. Overnight we had to become doctors, nurses, physical, occupational, and speech therapists. Every doctor appointment meant another machine and learning new ways to care for her. Doctors gave us little hope that she would survive past 2 years of age. But there is hope on the horizon.
Researchers are closer than ever to finding a cure for SMA. There is such promising evidence that it will be soon with proper funding, so we have committed to raising money for these programs.